AWARD-WINNING AND
TECHNOLOGY-ASSISTED HOMECARE
AND SUPPORTED LIVING
AWARD-WINNING AND TECHNOLOGY-ASSISTED HOMECARE AND SUPPORTED LIVING
Elevating the Standard of Homecare in Northern Ireland with Exceptional Services and Advanced Remote Health Monitoring Technology
Connected Health is Northern Ireland's leading independent provider of premium homecare services. We are committed to delivering multi-award-winning private homecare that prioritises the unique needs of you or your loved ones, placing them at the core of our compassionate approach.
Our revolutionary hybrid homecare model combines the essential in-person care services you expect with the added advantages of cutting-edge remote health monitoring technology. This powerful combination ensures exceptional care and invaluable peace of mind, allowing your loved ones to maintain their cherished independence and dignity within the familiar surroundings of their own homes.
At Connected Health, we go beyond traditional care by offering the Connected Academy — an esteemed institution renowned for providing accredited training to carers. By harnessing the latest technological advancements, we continuously strive for excellence at homecare, setting the highest standards in the industry.
Experience the utmost quality and innovation in private homecare and supported living with Connected Health — transforming lives one caring connection at a time.
Ignite Your Career in Care with Connected Health:
Join Our Team of Homecare Superheroes
Are you passionate about making a difference in people's lives? At Connected Health, we're constantly growing and looking for exceptional talent to join our dedicated team of compassionate caregivers.
If you're eager to embark on a fulfilling career that offers continuous development opportunities and the chance to support individuals within your community to maintain their independence in the comfort of their own homes. In that case, we invite you to connect with us today. Discover the rewards of being a part of our extraordinary team, where your skills, empathy, and commitment are valued and celebrated.
The 3Ts: Talent, Training & Technology
We unlocked the secret to exceptional care through our innovative 3Ts approach: Talent, Training, and Technology. This dynamic trifecta, combined with our proactive senior management, fuels effective connections that pave the way for transformative support, measurably enhancing the lives of our esteemed clients.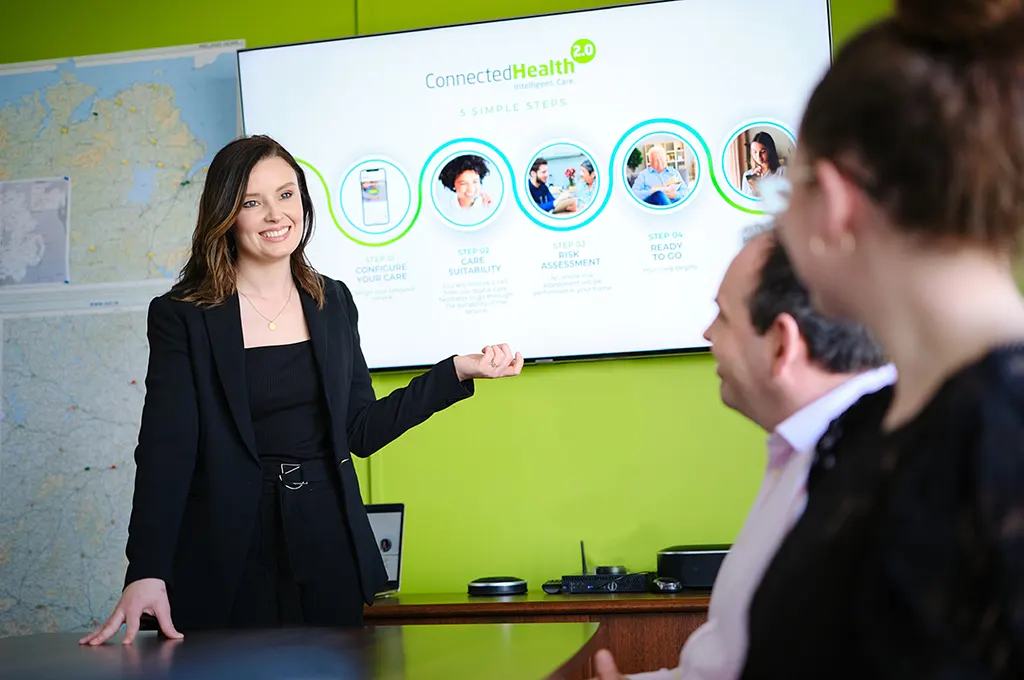 Find Your Local Office
We continue to spread our unique brand of care excellence across Northern Ireland; our team of more than 1,800 dedicated carers positively impacts communities near you.
Discover the Connected Health hub closest to your location and embark on a transformative homecare journey with us.
Sign-up for our Connected Health Careers newsletter for all the latest updates on current vacancies and training opportunities, homecare services, and digitally-enabled care in Northern Ireland.